Tragic news as Spencer P Jones wrestles "inoperable" cancer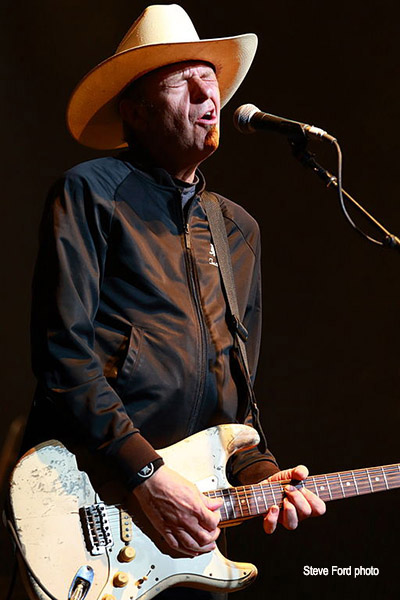 Much-loved Australian rocker Spencer P Jones is terminally ill and may have months to live.
Spencer's wife, Angie, confirmed the news on Facebook about 5.30 this afternoon. In a statement, she wrote:
First of all Spencer & myself would like to thank everyone in the community for all the love & support since Spencer was struck down with illness in 2015, rendering him unable to pursue his creative musical career.
For the past two years, we have been under the wing of the wonderful peeps at Royal Melbourne Hospital. Unfortunately after another scan in March this year the doctors found a cancer tumour in Spencer's liver.
In short , as a result Spencer has now been diagnosed with inoperable liver cancer.
Rumours that Spencer's health had hit a new hurdle had been circulating for weeks. His Beasts of Bourbon bandmate, Brian Henry Hooper, passed away on April 20, just days after a benefit show for him while he fought cancer.
Spencer played that gig at the Prince of Wales Hotel but was clearly struggling with his own health. Jones himself was the subject of a string of benefit shows around Australia two years ago when news first broke that he was battling major health issues.
Angie posted:
The sad news is, that currently there are no treatments available for Spence due to the complexity of the tumour's position.
Spence andI plan to fight this to the end. We plan to beat the prognosis of less than six months.
Spencer would like to spend this precious time with his immediate family and close friends so some privacy would be appreciated as his energy levels are very limited right now.
We delayed the annoucement as it was already a huge blow seeing our close friend Brian Hooper pass and felt (his wife) Ninevah, (and children) Ava and Charlize needed as much support as possible.
Spencer and I plan to keep positive. We got married shortly after his diagnosis in April after eight years together, which was a happy event for us.
Spencer was due to play with the Beasts of Bourbon at the Azkena festival in Spain in June but will not take his place. A replacement has not been announced.
The 61-year-old Kiwi-born guitarist rose to prominence in Melbourne in the early 1980s with Cuban Heels and North 2 Alaskans before joining The Johnnys in Sydney in 1983. The band came to national attention with two studio albums and a host of singles. While still in The Johnnys, Jones formed a side project, Beasts of Bourbon, who achieved international success.
Spencer also played with Paul Kelly and Hell to Pay while carving out a stellar solo career, releasing a long line of superb albums. His most recent record were a collaboration with Kim Salmon, "Runaways", and a co-effort with The Drones ("Spencer P Jones and The Nothing Butts".)
FOOTNOTE: An emergency GoFundMe account has been opened for Spencer. Donations can be made here.
Tags: beasts of bourbon, spencer p jones, the johnnys