Details

By

The Barman

The Barman
Bar band brilliance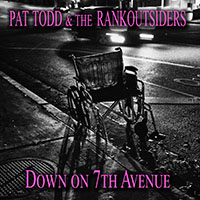 Down on 7th Avenue b/w I will Give up – Pat Todd and The Rankoutsiders (Dangerhouse/Heavy Medication)
Some people use "bar band" as an insult when it's a badge of honour. There is no more exacting proving ground. Pat Todd and The Rankoutsiders are the best bar band in the world and here's the proof.
"Down On 7th Avenue" was written the night before Los Angeles' finest went into the studio and it's delivered as only a band that knows itself inside out can. A scorching rocker propelled by a tight-as-a-fish's-arse engine room, crunching guitars and Todd's impassioned vocal, it jumps off the turntable. The reprise is the sting in the tail.
B side "I Will Give Up" is more mellow, a '50s rocker with some tasteful Duane Eddie licks and tinkling piano that's reflective of the band's rootsy ethos.
Buy or die. There's no excuse for not owning this.