Fistful of Fifties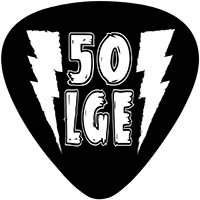 Loaded – 50LgE (self released)
Nothing to do with the Velvet Underground record of the same name, this four-song EP on CD is from a trio based on the South Wales Far North Coast, whose antecedents include membership of the Psychotic Turnbuckles , Brisbane's The Tellers and The Eastern Dark. That should be enough to pique the interest of most Barflies.
"Hooked" is a steady instrumental work-out that showcases Tony Young's brawny guitar tone. It's a steady climb to the top where it peaks in a rash of distortion. "World" is moodier and sparse, underpinned by some sharp riffing and a solid Geoff Milne backbeat. The lyrics are about globetrotting and are as skewed as Alex Chilton's "Bangkok".
Power trio they may be but 50LgE (pronounced: "50 Large") don't stick to conventions. The mixed tempos of "Raising Caine" come out of a place called left field. Simulated rotor blades usher in "Coachella" which is an ode to a Californian hipster-orientated desert music festival. It's a relief to realise it's a sarcastic takedown. After their debut 12-inch single "Black Interceptor", it's a fun if uneven ride, and copies are procurable at shows or by hitting up the band on Facebook.
50LgE will make their Sydney debut at MoshPit on May 1, supporting Jupiter 5 who will be launching their seven-inch single. Tickets here.