Short Fuse. Australian Underground Music Compilation Volume 1 - Various Artists (Wreckless Enterprises)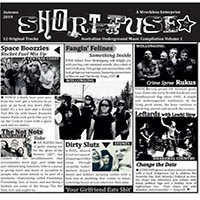 There's a whiff of genius about the concept: Twelve bands on a seven-inch single. Not one song longer than a minute. Yeah, I hear ya. Sound on a vinyl single degrades the closer the grooves are crammed together. Hence, the brevity of the songs. And it's punk rock. It's not supposed to be audiophile.
Some of these bands you may know and others may be new. A compilation of this order is a public service, of sorts. It's is a way to sample the unfamiliar and chase down their output if they row your boat. Musical democracy in action.
Central Coast garage punks Space Boozies kick it off with a foot-to-the-throttle jolter called "Rocket Fuel Mix Up". Ice broken. Wollongong's all-girl Fangin' Felines keep it succinct but tuneful with "Something Inside". Nitrocris + the Booby Traps = Win.
But wait, there's more. Rukus slams out a tight piece of punk called "Crime Spree". Newcastle entrants The Not Nots change down the pac for "Take". Sydney's Dirty Slutz have a message about dietary concerns called "Your Girlfriend Eats Shit". No sense in fucking about.
Leftards' "Change The Date" makes a political statement and history at the same time. It's surely the first occasion didgeridoo and clapping sticks - courtesy of guest Lowld Stew - have graced an old school punk rock song.
Crapulous Gee Gaw's "Egg and Sperm Race" is a bracing burst of hardcore that's spat out like last month's sour milk. "Half a Root" chugs along on the back of the VeeBees' well-oiled engine room (pun intended) and Ape Rib sound uncannily like Fugazi on "Post Hard War".
Minor Surgery does it Slits-style with a whiff of Sydney '80s punks Suicide Squad on "Birdserk". Thee Evil Twin's "Motherfuckers All" is one of the best things here.







1/2
Tags: space boozies, leftards, fangin' felines, rukus, thee evil twin, the not nots , wreckless enterprises, short fuse, dirty slutz