Stainless b/w Real Love? - Fast Cars (Method Music)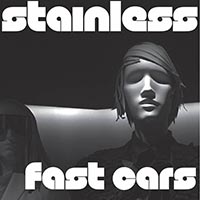 A taste of the forthcoming new album, this double A-sided single single puts Fast Cars in a place of their own. It's elegiac dream pop with an edge and a long way removed from their mod and powerpop beginings.
Those Sussex Hotel days are long gone. The band is now a core duo of Sydney multi-instrumentalist Fabian Buyrne and UK-domiciled vocalist-guitarist Di Levi. The songs are children of the digital age, worked up in disparate studios and assembled across the Internet.
"Stainless" is pop song of sharp contrasts with sarcastic lyrics ("nothing sticks to you") elegantly rendered by Di Lev,i atop a bedrock of flint hard, buzzing guitars. There's plenty of space in the production.
"Real Love?" Is instantly sunny, thanks to chiming guitar, Di's lilting vocal and a lusher backing. Piano and a pulsing bass-line, buried deep in the soundscape, round things off nicely. It's a song about being alive while savouring your surroundings. Pop with a capital 'P'.



3/4
Tags: powerpop, sydney, method records and music, fast cars, fabian byrne, di levi, stainless, real love?