'Tis the season for some treason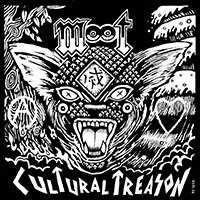 Cultural Treason - Moot (Riot Records)
The sleepy resort town of Forster on the New South Wales Mid Coast might be an unlikely place to find a punk band, but never forget that Jello Biafra grew up as Stanley Boucher in nondescript Boulder, Colorado. Moot have a little Jello in the musical DNA on their debut EP - plus a whole lot more.
It's said mainstream Americans don't "get" sarcasm. Aussies do and Moot is dripping in the stuff. "Fake News" is a blast of bile with lots of dynamics, directed at you-know-who. "I Hate Hippies" channels a show at The Grand Hotel in Sydney in 1980 with its nod to Johnny Dole and the Scabs and is a punked-up attack on hipsters. Simple and simply effective.
"I Want To Be Like Clint Eastwood" does a nice line in cultural appropriation (a la the Celibate Rifles' adoption of the Marlboro refrain in "Kent's Theme") that ends up as a plea from the downtrodden. "1000 Words" rips into Zuckerbook like there's no tomorrow with a detour into an economical John Walker solo. "Yummy Mummy" should go down well in Bondi or Mosman.
The vocals of Ross Dreise occupy the higher end of the register so there's no ignoring his Biafra-like bark. Moot is tighter than a fish's and there's a streak of "fuck you" running through "Cultural Treason" that you'd be stone deaf to miss. You can download "Cultural Treason" here or hit up the band for a physical copy of the seven-inch vinyl thing on Facebook. Hippies need not apply.





3/4
Tags: newcastle, forster, moot , riot records, cultural treason