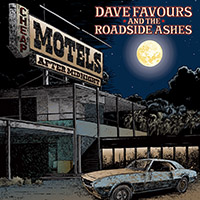 Cheap Motels After Midnight – Dave Favours and the Roadside Ashes (Stanley Records)
Forget the "alt.country" tag. It might be a comfortable peg on which to hang an urban cowboy's hat but after 15 years, Sydneysider Dave Favours surely occupies his own musical niche.
Maybe the tag should be "Ditch Country" – the twang is there, but like mid-70s Neil, he's skirting a course along the gutter because it's more interesting place to travel.