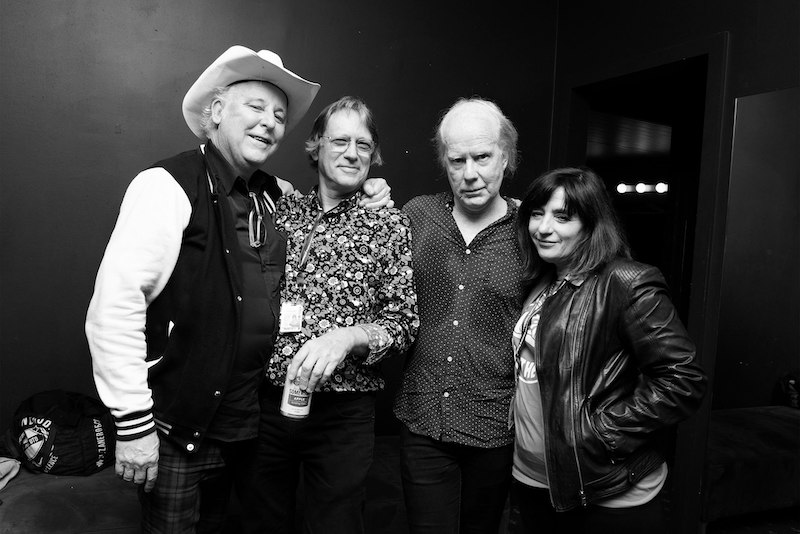 Backstage at the Festival of Sue with (from left) BILLY POMMER JR, CLYDE BRAMLEY and ROB YOUNGER. EMMY ETIE photo.
GIGS
GUADALUPE PLATA (Donostia, Basque Country)
GUADALUPE PLATA are an innovative 3 piece comprising (1) vocals and guitar (2) washtub bass/guitar and (3) drums. The play an eclectic and exotic mix of rock, blues, jazz and rockabilly. I saw them perform live after my solo show in Donostia, Basque Country this year. Pedro's guitar playing reminded me of my own, at times, demented approach to guitar playing.
KELLEY STOLZ, (Bottom of the Hill, San Francisco).
KELLEY STOLZ is a singer, songwriter, musician from the USA. His music has been compared to that of BRIAN WILSON, VELVET UNDERGROUND, NICK DRAKE and LEONARD COHEN. He played an awesome show with SARAH BETHE NELSON as support. Kelley is an all- rounder – a singer, musician and song writer. The real deal.
"A FESTIVAL OF SUE: THE JDS ARE ON YOU" (The Factory Theatre, Marrickville, Sydney)
Friends of SUE TELFER banded together to pay tribute to this much-loved Sydney lady with proceeds going to Support Act. A line-up that included myself (with special guest BILLY POMMER JNR on drums), X, the NEW CHRISTS, THE JOHNNYS, KIM SALMON, THE CRUEL SEA (instrumental), FRONT END LOADER, THE MIS-MADE, THE HOLY SOUL, & THE ON AND ONS. Having BILLY POMMER JNR on drums certainly gave me a run for my money. Highlights for me included the NEW CHRISTS, THE CRUEL SEA, THE JOHNNYS and X. Unfortunately, I did not get to see all the acts. Too busy chatting with my friends. It was such a great turn out from Sydney folks! After my trip into the city, seeing so many old buildings torn down (which caused me a lot of distress), it was great to see that Sydney folks still have a heart – a very big heart!