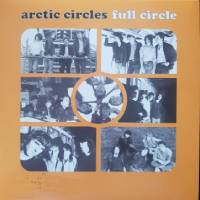 Full Circle - Arctic Circles (Buttercup Records)
With a scant recorded legacy, it would be easy to forget Arctic Circles, a '60s-inspired band that kicked around Melbourne's underground music scene in the second half of the 1980's. A 45 ("Angel" b/w "My Baby Said That") and a mini-LP, "Time", was the sum total until a posthumous live seven-inch on Buttercup Records in 2014.
Six years later, Buttercup has upped the ante with "Full Circle", a vinyl compilation of Arctic Circles' entire output, supplemented by live tracks and a bonus CD of demo's and live cuts. It's in a limited run of 200 copies.