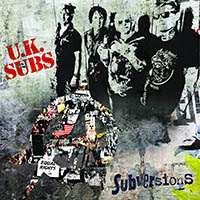 Revisionism is a wonderful thing. If you'd suggested listening to an album of cover songs by UK Subs as a useful way to spend some time 30 years ago, I'd have told you to check yourself into a psych ward.
I never "got" the UK Subs, despite their membership of the first wave of English punk…probably because I'd never bothered to try. There was just too much other stuff on the same block. Time marches on and you can't ignore band leader Charlie Harper's indefatigable nature (he's 73) or the 26 original studio albums (one for each letter of the alphabet) as testament to their durability.
"Subversion" is good. Better than good. It's capital 'F' for Fun, underlined by great playing and a collective "we don't give a fuck" attitude. Which should be what punk rock was - and is - all about. Fuck the fashion.