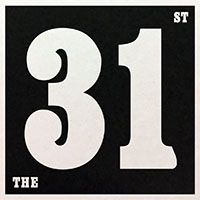 Copies of these four songs have been circulating for years and two have surfaced on compilations. The balance were re-recorded by members' subsequent bands. But don't kid yourself that you don't need this vinyl only 12-inch EP.
The 31st started when future members of Died Pretty (Ron Peno and Chris Welsh), the Screaming Tribesmen (MIck Medew) and the Hitmen/New Christs/Screaming Tribesmen (Tony Robertson) started playing shows in a strip club and anywhere else that would have them. Evidently, they played no one style of music - which must have been confusing for the Brisbane punks, boogie-heads and blues fans to pin a tail on.
The 31st were a future supergroup before those things were called that in Australia. They kicked around the undergrowth of Brisbane's downtrodden music scene in the early 1980s, and fell to pieces before anyone outside of it saw or heard them.
Future Hoodoo Guru Brad Shepherd was to briefly become a member although he's not on these recordings.