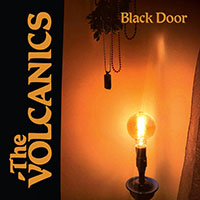 It's hard – no, impossible – to believe The Volcanics aren't huge names in underground rock households right around the world.
Perth might be the Most Isolated Capital City in The World (something its bands used to brag about incessantly - but let's face it, it's a great tagline) but the relevance of that factoid is fading fast in this digitally-connected age. So it can't just be down to location.
Sonically-speaking, "Black Door" has guitars up the wazoo, brutal hooks, captivating songs, swagger and attitude. So it's as unfashionable as fuck to the ears of cultural taste-makers, who'd rather assail our ears with Chris Brown or Tay-Tay (whichever one makes them the most money through streaming). Yeah. That'd be it.