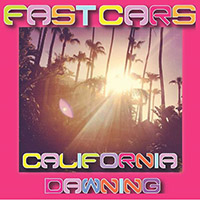 Nil to do with the Mamas and the Papas song, this is from the fab Fast Cars album "LAX" and it's a lush, string-tinged brooder that's a great calling card for the psychedelic long-player.
Remember albums? They were those things where a band put more than one idea into extended pieces of music (aka songs) that became a sum of a greater part. Fast Cars - once a Sydney mod band but these days vocalist Di Levi and multi-instrumentalist Fabian Byrne - sure do, and evoke more in these few minutes than a lifetime of downloads by Taylor Swift clones.
"California Dreaming" is part of a concept about ambition and star-making in a strange environment and place but you don't need the back-story to appreciate the 45.
The flip is a brave take on the Russell Morris song of the same name. No marching jackboots but a heady sonic picture nonetheless. You'd hope Molly would appreciate it because it works all the same. It's mastered a little quietly but you can compensate by playing it loud. Available as a 45 from here.




.