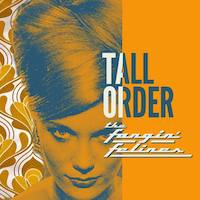 Tall Order b/w Something Inside - The Fangin' Felines (Evil Tone)
It's no tall order to like this brace of sassy and smart tunes from The Fangin' Felines, who come from Wollongong south of Sydney. There's just the right blend of bawdy garage rock rawness and girl group sweets to rattle almost any I-94 Bar barfly's cage.
"Tall Order" is catchier than a Chinese bat virus after a side order of snakeskin soup in a Wuhan roadside diner. It coms out all guns blazing on the back of a Jerry Nolan beat and a brash Carrie Phillis vocal, aided and abetted by fullsome harmonies and some coo-ing and whooping. Morgana Ancone's deft guitar adds a light touch.
Flip the sucker over and "Something Inside" is another winner. An undulating melody and a rolling feel nail this one to the floor with the Felines again showing the value of solid live gigging and knowing their way around a studio. Not as immediately addictive but you'll get hooked soon enough.
Surely a full-length album is only a formality? Meanwhile, grab this while it's still available. The purchase link is below.