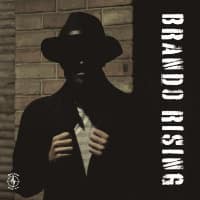 I coulda sworn I sent a review of this violent fucker in yonks ago but... apparently not. Anyway, it's been a couple months, and I still play it, often and loud, usually in the car, and I have the dangerous driving fines to prov
"Brando Rising" sounds fresh, piercing, varied and they approach the six songs here from every which way, and the disc hurtles toward you with the measured savagery of a Hammer film (or a killer making his way up the stairs). There's a healthy dollop of Stooges/ Iggy influence (no surprises as singer Rip fronts the Four Stooges when he's got a few moments to spare) and as The Barman points out belwo, a few other influences.
Don't let the influences influence you. Guitarist Kelly Hewson wields a nasty, savage guitar and is one of the few guitarists to use wah-wah and get away with it. Wah-buzzsaw? Something like that. Either way, they've got a top rhythm section which knows how to party, a guitarist who wants to rule the world and a singer who already does (so I am told). They're entertaining, intense, new, not particularly pretty and belong headlining at your local beer barn.