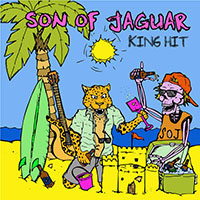 Woolgoolga is a town on the New South Wales North Coast, and Sons of Jaguar have been making quite a noise around the pubs of that wonderful part of Australia for the past year or so. "King Hit" is their debut album recorded in two days and laden with some fine twin turbo guitar riffs, wonderful bass playing and drumming.
This is one fine album.
So, I-94 Bar users and abusers, things kick off with a sonic fuzz blast in the guitar riff of "Park Beach" - and you just know things are about to get wild. "Dead Beat Dad" is a classic driving guitar song that is just awesome, and the break in the middle off this tune is just a groovy '60s sound. This song is worth the price of admission alone.