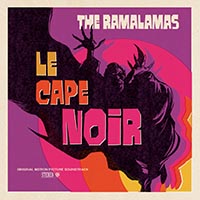 Le Cape Noir – The Ramalamas (Half a Cow)
This soundtrack to an imaginary '60s cult movie, or so the shtick goes, is really a collection of intriguing garage-swamp pop outbursts by enduring but low-key Sydney band. It's the fifth long-player by The Ramalamasand their first on vinyl.
"Le Cape Noir" is a celebration of ADHD. It swings from surf-tinged rockers to garage pop and back to spy movie instrumental in the space of a few tracks. Its 16 (yes, 16!) songs are broken up by snatches of spoken word faux movie dialogue.
Sit back and let it wash over and you could be sitting in the Valhalla Cinema at Glebe watching a cult film, and ending the night stumbling out of the Sydney Trade Union Club at 4am.