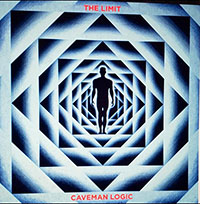 Caveman Logic – The Limit (Svart Records)

Trust me on this if you haven't heard the evidence first-hand: Sonny Vincent's music punches harder than just about anyone else in the same space.
When those histories of New York punk are written, he and his late-'70s band Testors are never mentioned. Testors didn't play well with others, in the "industry" sense, and never climbed off the lower rungs of the Max's-CBGB ladder. History gets written by the few and it's the way that Vincent has kept the torch of dirty, street-level, rock and roll burning since that really deserves credit.
For 40 years, Sonny's been punk rock's ultimate networker, working with members of The Damned, the Stooges, MC5, the Velvet Underground, The Replacements, Dead Boys and too many more to count, always with a vision that's equal parts visceral power and lingering melody.