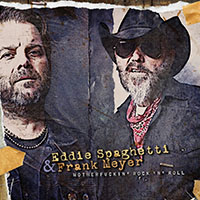 Motherfuckin' Rock 'n' Roll – Frank & Spaghetti (Kitten Robot Records)
Hello Barflies! The Farmhouse has been rocking these past few weeks because the principal members of two of my favourite American bands, The Streetwalkn' Cheetahs' Frank Meyer and the fabulous Supersuckers' Eddie Spaghetti, have joined forces as Frank & Spaghetti to release a long player, "Motherfuckin' Rock 'n' Roll".
"Motherrfuckin' Rock 'n' Roll" is just that and follows a couple of digital singles by the duo (and friends), the epic "Shit's Fucked" and a cover of Tom Petty's "Jammin Me".