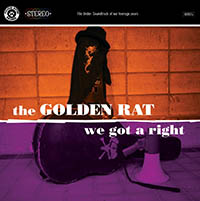 We Got A Right – The Golden Rat (Vicious Kitten Records)
What do you get when expat bi-coastal American underground star Mr Ratboy collides with Hiroshi The Golden Arm (aka Japan's Johnny Thunders) in a Tokyo garage, each armed with the songs that pre-occupied their formative musical minds in the period spanning 1976-82? An absolutely killer album.
"We Got A Right" is a record that came about through necessity. Hiroshi The Golden Arm and Mr Ratboy first met in 1993 when the latter was a member of Jeff Dahl's touring band. Fast forward a few years and Mr Ratboy is a resident of the Land of the Rising Sun and the pair strike up a musical partnership in the electro-trash outfit Ace Killers Union.