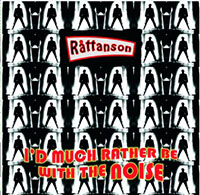 The DIY ethos is less a gimmick and more a way of life these days for the 99 percent of musicians not enslaved by a major label. It's either practical, necessary or all too easy to hole up in your bedroom and let those ideas pour out onto a hard drive without someone else calling the shots and charging your own money for it.
There's a defiite upside and also a downside. Rattanson is a case in point.
Rattanson is a one-man garage pop multi-instrumentalist from Sweden and "I'd Much Rather Be With The Noise" is his second album under that name. A former member of powerpo act Fanscene and garage rockers The Rawhides, he's gone solo to focus on his own songs.
Rattanson played all the instruments on his first record, 2017's "Full Scale Shakeability", and also on this one except for drums, for which he recruited Anders Björnlund from the Turpentines and the HiJackers. He'll have a bass player in tow to play the songs live.