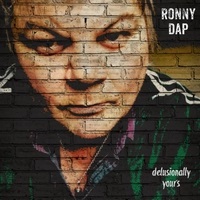 He's not a household name (yet) but don't let that stop you. Ronny Dap is the self-styled King of Aussie Pub Rock DIY, a minstrel for those who wish their weekend trip to Bunnings was for guitar strings and not Ozito home-brand power tools that fall apart, shoddy customer service and a cheap sausage sandwich.
Yobbos. We've had a few. For those playing along at home overseas and not familiar with everyday Australian vernacular, Yobbo is the term for "a heavy drinker, who places mateship above all else and lives for those wild memorable moments that are unforgettable". According to the authoritative Urban Dictionary, anyway.
From Billy Thorpe to the Cosmic Psychos, yobbos have been part of the musical and cultural fabric –the cut of the cloth being comfy jeans and a blue singlet. Turn up your nose if you must, but disdain for the upper crust, accompanied by larrikin behaviour, pre-dates Oz rock and roll by a long way. It's probably one of the few defining national characteristics most of us can agree on.