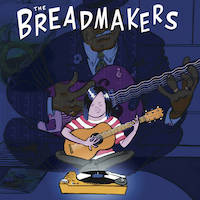 The Breadmakers - The Breadmakers (Soundflat Records)
The Breadmakers are a Melbourne institution in a town that has plenty of them. They've been peddling their authentic brand of rhythm and blues around the Victorian capital, its environs and various parts of the world since 1989, and their seventh album sounds as fresh as any of its six predecessors.
R&B. Everybody's on the correct page regarding R&B, right? The term's been appropriated by the global music machine in recent decades, and applied to bland, largely soul-less genre of soft pap that permeates the airwaves like an insidious virus.