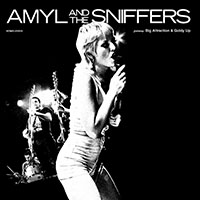 This may well be the only review of the Amyl and the Sniffers LP that makes no mention of mullets, sharpies, bogans or moles.
(I must mention, however, that one of the best mullets I have ever seen is the bass player from the mid-period line up of The Angels as seen in the film clip of that "No Way Get Fucked" song...although he is no match for Bob Spencer who in the same video has no hair and a monster rat's tail! Awesome!)
Amyl and the Sniffers are a young Australian punk rock band from Melbourne...and they play like they really mean it. Unlike some fake punky rockers over the past 40 years who, despite having the right shoes, clothes, haircuts and an obscure Killed By Death seven-inch that sells for $800 on eBay, were just trendies with no guts, heart , soul or songs.