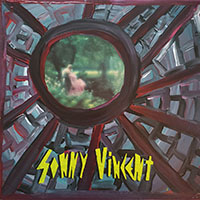 Ultramafic – Sonny Vincent (self released)
Ultramafic: An igneous rock with a very low silica content and rich in minerals such as hypersthene, augite, and olivine.
This is a short run of 12-inch vinyl, each copy with its own bespoke, hand-painted artwork. They were put together for a series of art exhibitions in Switzerland, New York City, Holland, Germany and France about 10 years ago. It will look great on your wall and sound devastating on your turntable.
The music was recorded by Sonny Vincent and various bands from 1976 onwards – much of it in tiny studios while on endless tours of Europe and the USA. Some of it has been heard in other versions.
The line-ups include Vincent's Max's and CBGB staples, Testors, as well as members of Rocket From The Crypt, Sonic Youth, The Damned, the Stooges, Dead Boys, the Velvet Underground. There's even an appearance by Ernie Knapp, a guy who drummed for Charles Manson as well as the Beach Boys (I shit you, not.) Don't expect polish. It's all uncompromisingly raw, but always passionate.