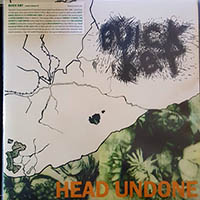 You have to admire record labels like Buttercup who dig up decades-old sounds from Australia's music underground, chuck a new coat of paint on those mouldy old tapes and offer them up for a cash consideration to nerdy record collectors who crave those obscure Australian sounds.
A cynical person would file this Melbourne combo under "'80s Smack Rock"…and of course I'm a cynical bastard. But, hey, being inspired by The Birthday Party or the Bad Seeds isn't a bad thing. Those groups wrote their own rule books and went where no bands has been before them and if you're going to be inspired by somebody it may as well be by the greats.
I'm sure Buick KBT shared cups of tea with The Wreckery, The Moodists and The Sacred Cowboys. They certainly shared stages with Venom P.Stinger, Go-Betweens, X , The Laughing Clowns and Dead Kennedys.