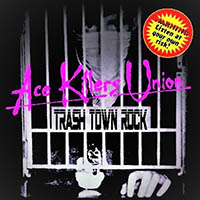 "Noise annoys," said the Buzzcocks and although they took a more melodic bent than most of their contemporaries, you knew what they were on about. "Ugly music for ugly people" was the apt review tagline for the self-titled Kim Salmon and the Scientists album, many years ago.
This confronting record from electro-punk duo Ace Killers Union is a bit of both. If their music doesn't make a mark, stick in your craw or drive you to reach for a stiff glass of Suntory whisky after a couple of listens, you're just not paying attention.
Ace Killers Union - ACU for short - is Hiroshi The Golden Arm and Mr Ratboy with their guitars and a whole slew of machines. From the impossibly fast title track and opener to the low-fidelity, speed pulse-attack of "I Wanna Be Your Dog" (yes, that one) this is an abrasive melange of noisy, gutter rock skronk.