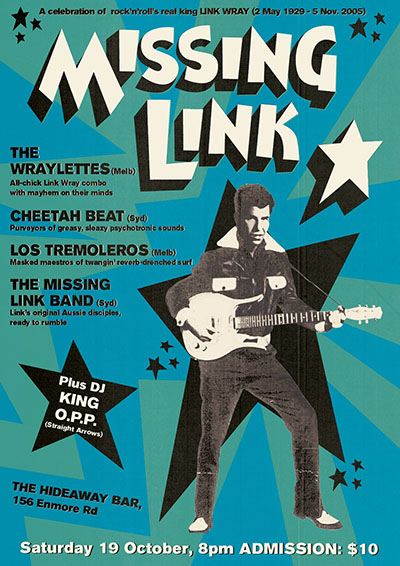 Some of Melbourne's keenest worshippers of guitar pioneer Link Wray will share their adulation of the man with Sydney on Saturday, October 19 with a special gig at Enmore's Hideaway Bar.
All-girl combo The Wraylettes (Melbourne) will be joined by sleazy '60s psychedelia advocates Cheetah Beat, surf reverb fanatics Los Tremoleros (Melbourne) and Sydney's own The Missing Link with DJ support from King O.P.P.
The Wraylettes are something of a supergroup, comprising lead guitarist Yolanda DeRose (DollSquad, Mass Cult and The Beat Taboo), drummer Susan Shaw (The Exotics, Girl Monstar, The Wet Ones and Andre Williams), bassist Nikki Scarlett (Asylum, Dusty Springclean & The Pops. The Jasmine Mahon Trio) and guitarist Sammy-Lou (The Shimmys The Vibrajets.)
Cheetah Beat are no slouches too with membership drawn from The Crusaders and The Booby Traps while The Missing Link were Link Wray's Sydney pick-up band for his one and only Australian tour in the '90s. Leader Bones and Co play out rarely these days.
The Link Wray Tribute became a thing on the Melbourne live music calendar a couple of years ago. Hideaway Bar is at 156 Enmore Road - a short stroll form the Enmore Theatre. Admission is just $10.