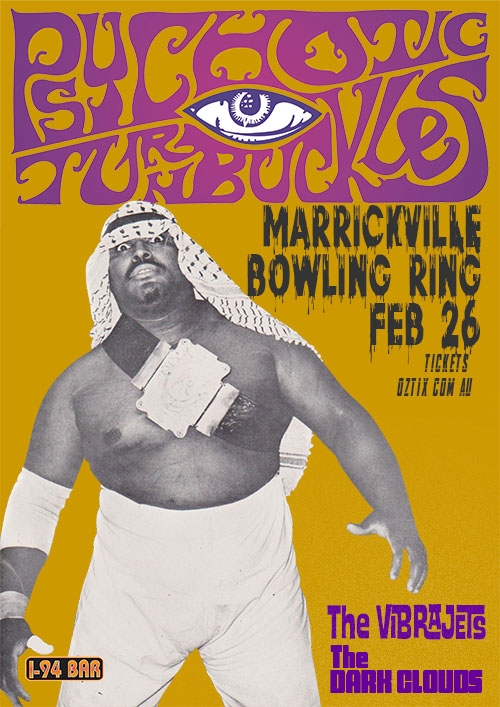 They emerged from the fog of COVID a year ago to give the pandemic the middle finger, riding a container ship to Australia all the way from Pismo Beach.
The Psychotic Turnbuckles have again been coaxed out of semi-retirement in their palatial beachside mansions on the California coast to Destroy Dull Sydney one more time. Tickets are on sale here.
Make being at Marrickvile Bowling Club on Saturday, February 26 your New Year's Resolution to see The Undisputed Champions of Rock and Roll bring the thunder.
Jessie the Intruder, The Grand Wizard, The Psychedelic Unknown, Count Forza and Gorgeous Karl Domah will be laying waste to two pretenders to the throne in Melbourne's The Vibrajets and The Dark Clouds.
Comprised of past and present members of The Stems, The Shimmys, and The Breadmakers, The Vibrajets aren't the garage band the pedigree might suggest.
This is wigged out and twangin' surf and frat and rock'n'roll that goes back to the source – and is best enjoyed while shakin' your moneymaker on the dance floor!