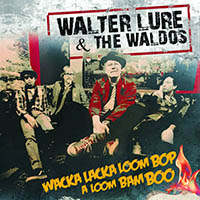 There's a temptation to hail this record as the last gasp from a dying breed. After all, it's 24 years since the last Waldos studio album, the wonderful "Rent Party", and a lifetime since Johnny Thunders and The Heartbreakers last staggered onto a stage.
Walter Lure is almost The Last Man Standing from what's erroneously generalised as "the New York punk scene". There was a scene but it was more than just punk (whatever that is or was) and it was pushed to the margins by the dual forces of Disney and gentrification.
Walter has lived his share of the nine lives that his old band was gifted, and maybe then some, so if the temptation proves too much not to tag "Wacka Lacka Boom Bop A Loom Bam Boo" as a lowering of the curtain on a long-gone era of Lower East Side guitar sleaze, cut me some slack. A handful of other people still wave that flag.
There are a dozen songs on "Wacka Lacka…" and most contain more raunch per ounce than you can squeeze into a digital back catalogue of Strokes records. This is as you'd expect: Walter Lure – "Waldo" to his stockbroking mates – was the guitar foil to Johnny Genzales in the post-Dolls Heartbreakers, and they were the band that made the template for street-level, pharmaceutical-fuelled, bad boy, four-chord goodness. (Yes, Keef did it first but he could afford not to mix it with the masses who were copping on Norflok Street, hence the term "street-level".)