2020 Barfly Top Ten: Dylan Webster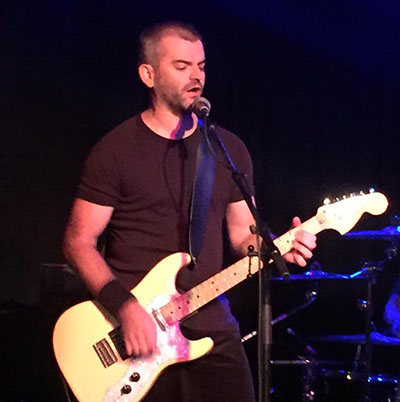 DYLAN WEBSTER
Guitarist, Howlin' Threads and ex-The Fools
YASS-FM broadcaster
Yass, Australia

1. It's great to see that Stew "Leadfinger" Cunningham of Leadfinger is recovering well from cancer and getting back into rock n roll with an album recorded. Thankful also to see that the New Christs emerged from lockdown (much appreciation to Dave Curley for the great live footage!). Tumbleweed's blistering return to earth with killer new material is cool. Plus, Covid restrictions has often meant enjoying bands vicariously through images/video, so a big thank you to the great work of photographers like Matt Houston, Kaza Black and Keith Claringbold who allow us all to enjoy live shows.
2. 2020 did a good job scuttling so many gigs and opportunities that bands need to promote new music. Despite this setback, Howlin' Threads pressed on and released a new EP and a separate follow up 7" vinyl single ("Edge on the World") this year. It was a real privilege to have Lenny Curley (Tumbleweed/Pink Fits) contribute lead guitar to our recording of "Professional Againster"; a feature track on a European compilation tribute to the New Bomb Turks (release Feb 2021). And, working with Cub Callaway (ex-Saints) is always a pleasure. Howlin' Threads CDs, vinyl, digital downloads can be ordered via Bandcamp.
3. "Discovering" Mark Hunstone: Mark is an exceptional Canberra-based musician and a recording wizard. Mark did an incredible job for the Howlin' Threads and we simply could not have completed our recordings without his skill and effort. This guy can play any Dire Straits songs note for note, yet I had him playing tambourine! Some great backing vocals and piano, too. Thanks for everything, Mark.
4. It's cool to see DIY rock n roll is alive and well. Just fans and bands spending (wasting?) their own cash to publish and promote music they feel compelled to release. Labels like Meinshaft Records, Wreckless Enterprises, Outtaspace Presents, Crankinhaus, Heavy Medication Records… all just pushing rock n roll forward for the sake of it. There are some great independent record stores too, like Hiss and Crackle (Newcastle), Landspeed (Canberra), Music Farmers (Wollongong), Velvet Fog (Katoomba), RPM (Marrickville), Off The Hip (Melbourne)… all out there supporting local bands and selling vinyl records.
5. The Yassville Skyline (Yass FM 100.3, or streamed via yassfm.org). Cancelled gigs and boredom prompted me to get involved in community radio. It's great fun, kinda like making a mixed tape every week. Listening to my mate Fintan's program every Friday morning on Canberra's 2XX FM was a catalyst, and Fintan's dedication to playing Birdman and the Stooges on breakfast radio in the Nation's Capital should be commended! Right on!
6. Getting permission to play the entire new Deniz Tek/James Williamson "Two to One" LP live on a regional radio station a month before its official release was a great honour. What a coup for community radio! James and Deniz both contributed program ID recordings for the Yassville Skyline… so very cool.
7. Community radio is often underappreciated, yet sadly it is the only place that many great bands featured on the I-94 Bar will ever get airplay. It's therefore very satisfying to have two hours every Saturday night to play whatever I feel like. Who else is gonna dedicate significant weekly air time to killer stuff from the New Christs, Leadfinger, Ramones and Sonic's Rendezvous Band? Yassville Skyline.
8. Getting to know your musical heroes is a pursuit often fraught with disappointment. But then again, sometimes it works out. I've had a great time this year corresponding with one of the absolute idols of the I-94 Bar "genre". Discussing everything from books, recording tips, and a robust debate on the MC5, Who, Stones and the inherent subjectivity of deciding which bands can be considered as the upper echelon of the rock n roll hierarchy! Gold. As a fan, this is priceless! Enjoyed it immensely. Thank you.
9. A period working from home provided adequate time to reflect on what is truly important: reuniting CDs with their appropriate cases, cataloguing vinyl, and taking stock of all the gig/band posters shoved into post tubes over the years. Having the time to find all 3 x MC5 records (new) on colored vinyl for a total of just 45 bucks and getting the Keith Richards "Talk is Cheap" anniversary box set for $50 are also worth mentioning as genuine rock n roll highlights of 2020.
10. I've received heaps of amazing material for inclusion on the radio show this year. Some wicked stuff that I probably would not have discovered otherwise. I genuinely appreciate all the contributions, especially stuff like James McCann and the New Vindictives, the (almost) complete Stew Cunningham back catalogue, Johnny Casino's solo records, MD Horne's brilliant new record, 300 St Claire, Dark Clouds, Tokyo Beef, Mick Medew's new LP, The Hurricanes, Mushroom Planet, Simon Chainsaw (wow!), Broham, Asteroid B612, The Casanovas, LOOSE! and so much more cool international stuff. The great thing about community radio is that bands can tap into a whole new audience that otherwise wouldn't ever get to metropolitan gigs. Get behind it! A massive thanks and shout out to Dave Laing too.
Tags: top ten, the fools, dylan webster, yass skyline, yas-fm