2020 Barfly Top Ten: Keith Claringbold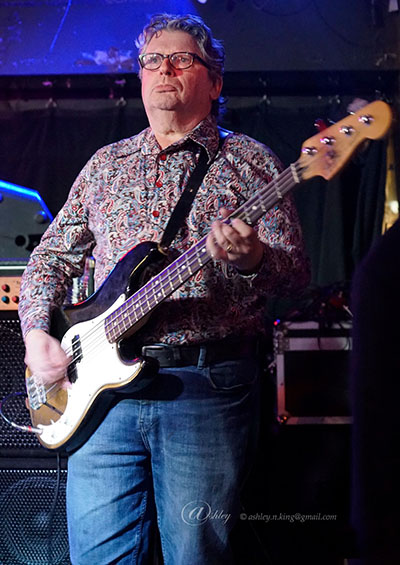 KEITH CLARINGBOLD
Bassist - The Smart Folk, The Amazing Woolloomoolloosers
Inveterate live streamer of gigs
Sydney, Australia

2020 Top Ten
1.) Sunnyboys warm up gig, The Pink Fits in support at the Factory Floor in Sydney
A big thank you to Steve Teece for tipping me off about this one. That sound, those songs, up close! The Pink Fits were great too.
2.) Nunchuka Superfly/Bitchcraft/White Knuckle Fever/Baby Machine/Beijing Bikini – Marrickville Bowling Club
As someone said to me, "so great to see so many women on and off stage".
3.) PopBoomerang night- Ups and Downs/Halfway/ The Aerial Maps – Marrickville Bowling Club
|A full house at the Bowlo. Halfway had one of the best live sounds I've ever encountered. Ups and Downs the icing on the cake.
4.) The Schizophonics/The Fangin' Felines/The Drop Offs- Marrickville Bowling Club.
Exciting garagey fun. The Drop Offs twin drum attack! The family that drums together. This was the last gig before the Covid-19 Sydney lockdown.
5.) Post lockdown gigs at The Gasoline Pony by Tigers at the Edge of time and The Resurrection Men
Tentative steps into the new normal of limited numbers, QR codes, no standing etc. A bonus to have friends in both bands to help ease underlying nervousness.
6.) Monday Night Gunk from Moshpit
Brilliant idea! More of this in 2021 please.
7.) Moshpit – the biggest little venue.
The owners found ways to thrive and survive during dark days this year.
8.) Streaming gigs – A mixed blessing?
Possibly but shows by some artists were incredible- Ed Kuepper, Kim Salmon and John Kennedy among them.
9.) Davey Lane at Oxford Art Factory, Sydney
Musicians from another state! In person. What a cracking gig it was too.
10.) Getting to play four times this year
Don't ever take it for granted.
Bottom 6
1.) Marrickville Bowling Club not having live music, bar the one month under the Great Southern Nights banner
What a ridiculous waste of the best big venue in town.
2.) The inconsistency of rules for venues versus those for sporting events
Hmmm.
3.) St Kilda losing two venues in recent weeks
4.) Long awaited Smart Folk tour of Melbourne set for May not going ahead
5.) No Xmas Even in Sydney
Probably just as well, eh?
6.) Fangin' Felines going on hiatus
Tags: in the hands of the fans, top ten, keith claringbold, the smart folk, schizophonics, 2020, moshpit, gasoline pony