2020 Barfly Top Ten: Matt Ryan of Munster Times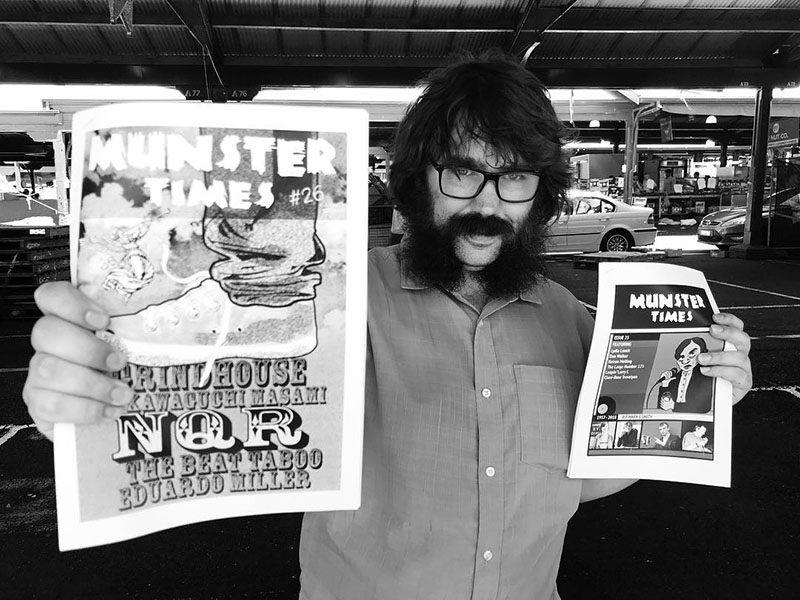 Zo Damage photo
MATT RYAN
Editor - Munster Times zine
Melbourne, Australia
Top 10 LPs of 2020 (no order)
Adele and the Chandeliers – First Date
First thing that grabbed me was that sweet Manchester accent of Adele Pickvance, one of the unsung heroes of Oz music and my new favourite vocalist. Nine cracking powerpop tracks, and a corker Buzzcocks cover. An LP of life, love and the simple things that make it worth living, laid down in a fun and warm LP
The Breadmakers -The Breadmakers
Melbourne's garage gold standard return with their first LP in years. Ten '60s rock 'n' roll inspired tunes, and two covers that "Back from the Grave" aficionados will go nuts for. Proving once again three chords, or less, plus rough and fast is all you need in a track.
Jack Howard and the Long Lost Brothers and a Sister - Dog Songs
The Dogs Bar in St Kilda (RIP) did an amazing job of keeping live music going in St Kilda, and one of the marque acts was Jack Howard every first Sunday of the month. With lockdown that obviously came to an end, but this CD was a wonderful reminder of those Sundays. This CD comprises of songs Jack and Co play during their Doggies set. As I listened to this I could see myself standing in the corner, being greeted by landlords Gav and Sonya, while Bernie 2 Legs, Fiona and Josie Jo and I shoot the shit while listening to all these killer tunes, and trying to get Leeroy's attention behind the bar. One of those bands you can't really fit into a genre, brilliant songs with an amazing ensemble of musicians.
The Stu Thomas Paradox- Counting to Infinity
The STP do a ripper collection of songs from the movies. Stu is known for his covers and but the difference is he's one that actually gives a shit and does something different. He's not just doing a bland by the numbers cover any fool with a guitar can do, paying respect to the artists and songs while being himself. To coin a wrestling term he gets the song over and in the process gets the band over.
Sunday Reeds- Drive you Mad
Adelaide's finest cram in a lot in this great six song collection. Riot grrl with a touch of the Cramps and the Jesus and the Mary Chain, such an amazing voice frontwoman Romana has. Six tracks that has it all, gorgeous, scary, tough and all round incredible.
Mick Medew - Psychopharmacologist
Following on from his LP with the Mesmerisers last year Mick returns with a different affair, including a few instrumental tracks. Not exactly a 180 from last year's record but shows just how talented Mick is and what a creative mind he has, new LP features new and exciting ideas.
Cold Meat- Hot and Flustered
After hearing there seven inch last year I was very excited for this full length release and it did not disappoint. Amazing punk from young people in Perth. Thumbs up for the rawness and awe-inspiring tunes. Thumbs down for the ZZ Top diss.
Stiff Richards -S tate of Mind
The best band to come out of Melbourne in the last five years dropped their third LP in four years, and I swear these guys can do no wrong. One of those bands that will never have a classic album. They'll just keep continuing making amazing high energy rock n roll that will always leave me wanting more
River of Snakes - Sleight of Hand
Lots of great fuzz and pedal work here. Brilliant stuff from the Snakes, one of the best live bands Melbourne has to offer. Songs differ in time, just keep playing til that's enough Love the duel vocal work of Raul and Elissa.
Plastic Section -Twisted
Sun City meets Jon Spencer, Ben and Pip with new drummer Sue release the band's third record in as many years. Another corker of a release, no song longer than two-and-a-half minutes, the way it should be. Not one second is squandered, and also features a magnificent Link Wray track.
Gigs:
Sleaford Mods at The Croxton
I've been waiting years for this gig, and boy did it deliver. One bloke, rapping, or doing spoken word, I don't know, and another pushing a keyboard once and then proceeded to do some lame dancing while holding a beer. Don't sound much but was the gig of the year, or any other year for that matter. With plenty of material in the bank, the Mods gave us a best of their decade long career in just over an hour. The crowd was split down the middle. Half was rock pigs, the other was a younger hip hop crowd, and these younger people that had no idea how to act or behave in a pub. As a Gen Y'er I'm ashamed to be part of this generation. But it was worth it to hear "TCR" and "Stick in a Five" and "Go" live after so many years of waiting.
Lydia Lunch at The Corner
Before the headliner we were greeted with Mr Teenage, possibly the finest band in Melbourne at the moment. Then the curtain opened and Lydia and her misfits came on. And to say she was ready for war is an understatement. Two songs in, a dickhead threw a drink at the group. Ms Lunch demanded the culprit show himself. He did, and instead of demanding the wrongdoer be thrown out, she wanted him front and centre. A mini struggle happened, with Lydia coming out on top before security threw his sorry arse out. But it didn't end there. Two more evictions (full credit to the bouncers that night), and when I went for a mid-show smoke the outside bouncer was being held back by bar staff as a front bar punter was also being held by his crew. Lydia came with her setlist, and the crowd could take it or leave it. Calls of 'I love you' where greeted with 'Shut up'. No requests, no interrupting her stories and no encore. Should be more of that. The night ended with Weasel Walter making a PSA, asking if anyone had any acid. Bit late notice dude.
Joel Silbersher and Charlie Owen, Penny Ikinger at the Dogs Bar
This felt like a Tote gig in St Kilda. One of the first gigs post lockdown we were treated to three of the most talented musos around. Penny opened with a solo set, playing songs off her latest LP "Tokyo". At one point she mentioned a bunch of Northsiders were in the crowd, which was greeted with hisses and boos from the St Kilda locals. Charlie and Joel were next, I was sitting down in front of the band in awe of Joel's voice, trying to stay focused while Fred Negro is in my ear making me laugh and showing me drawings he was doing during the set.
Tim Rogers at Claypots
On a hot Monday February evening we were blessed to see a small intimate performance by Tim Rogers at the fish bar on Barkley Street. For those that ain't been, The Pots, particularly at night, seems like an underground bar in 1920s prohibition New Orleans. And when you have Margie Lou playing the Devil's music on a Sunday you got it all covered. Tim played a one-hour set early, playing classic You Am I and solo tracks, while giving us his razor sharp wit in between tracks. Perfect night with a perfect frontman.
Fiona Lee Maynard with James Lomas and Cal McAlpine at The Espy
Specking of Tim, he did a cracking job running the Espy Basement on a Wednesday night. Tim serving drinks, while DJing and with Blankety Blanks playing behind the bar. Perfect. This was my favourite of the Wednesday's, with Fi playing songs from her amazing back catalogue backed up by Cal and James. Hope to see Tim behind the jump real soon.
Dave Graney and Clare Moore at Stage It
Something I always looked forward to on Thursday's was seeing Dave and Clare on the screen. 45 minute sets that spanned four decades of Dave and Clare's music, plus covers that included everything from the Go Betweens to weird old time blues. During these odd times it was always a highlight of the week and something to look forward to. With no gigs this was Always a treat and am grateful for Dave and Clare playing live, even if they were several postcodes away
Best TV Shows:
Monday Evening Gunk, It's Always Sunny In Philadelphia, Mad as Hell, MacGyver (the old one)
Best Pubs:
Dogs Bar, Misery Guts, Surabaya Johnny's, Old Bar, Tote, St Kilda Bowlo, Jo's back Porch
Best Beer:
Vic Bitter
Best Book:
"Small Moments of Glory" by Jack Howard. "The Eight Wonder of the World: The True Story of Andre the Giant" by Bertrand Hebert and Pat Laprade
Best footy team:
Collingwood
Tags: melbourne, top ten, munster times, 2020, matt ryan