2020 Barfly Top Ten: Ron Brown from Dimboola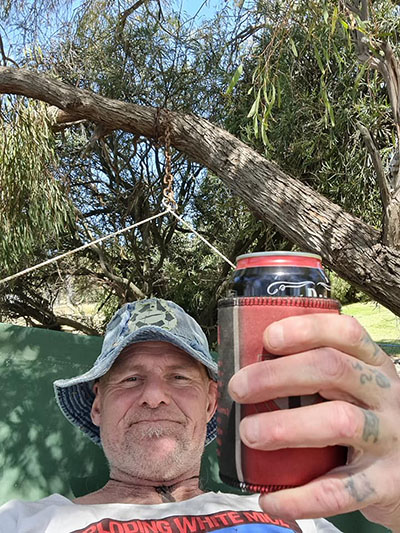 RON BROWN
I-94 Bar correspondent from Dimboola in The Outback, Australia
Hello Barflies. It's been a shitty year. No gigs in this year's Top Ten but the Farmhouse has still been rocking
10. The Stooges - "Live At Goose Lake"
After all the stories about Dave Alexander's bass playing at this gig being horrible and Iggy sacking him is now put to rest it. Better than they said.
9 .Deniz Tek & James Williamson - "Two For One"
When two guitar greats join forces, one would expect it to be good. And it is.
8, The Casanovas - "Reptilian Overlord"
The Casanovas have released another fabulous record full of big riffs.
7. Mick Medew - "Psychopharmacologist"
The songs and vocals are brilliant, and also thanks for the Sunday streaming sessions with Miss Border Collie.
6. AC/DC - "Power Up"
They're back with their best album in years - a true tribute to a lost brother.
5. Drop Kick Murphys – live stream
The DKM did a wonderful live stream from Finway Park , spectacular sound and songs.
4.. Slade - "Greatest Hits"
One can never have enough Slade in the record collection.
3. Angus Khan - "The Wrath Of Khan"
Frank Myer and his mates finally released their second record. It's a killer.
2. Rolling Stones - "Goats Head Soup" resissue
My favourite band with a wonderful extended version. That makes five copies of this album in my collection.
1. Steve Lucas Happy Hour livestream
The wonderful Steve Lucas from X has been entertaining the masses from his home, playing songs from his catalogue and the tunes that have influenced him over the years. Happy Hour is a bit misleading as these 20 live streamed shows have gone for over two hours most Wednesdays. Steve should be nominated for Australian of the Year.
Have a Merry Christmas & Happy New Year , hopefully you can shout me a beer at a gig in 2021. From the Farmhouse: Take care, drive safely and drink heaps.
Tags: top ten, rolling stones, james williamson, deniz tek, ron brown, angus khan, drop kick murphys, dimboola, slade