2020 Barfly Top Ten: Chris Virtue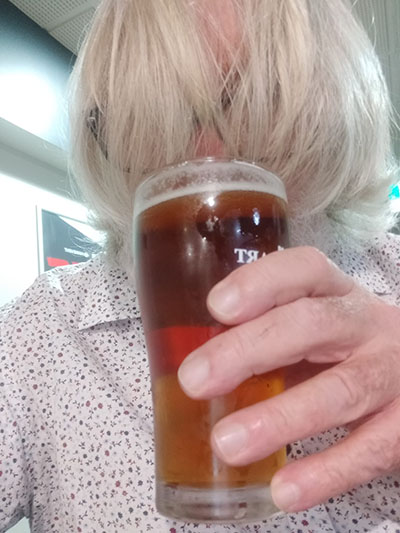 CHRIS VIRTUE
Sydney radio host*
Blue Mountains, NSW, Australia

Top Ten in Twos
1. Two Hendrix covers
Lucie Tiger – The Wind Cries Mary"
Sydney country singer transcribes one of Jimi's more melodic tunes for solo piano with stunning effect, but leaves the song intact. Lucie acknowledges where it's come from, but takes it somewhere new. Hear it.
Lachie Doley - "Voodoo Chile (Slight Return)"
Sydney blues and soul keyboard master gives the whammy clavvy a serious workout on this. Check out the vid.
2. Two political songs
Chuck Prophet – "Get Off The Stage"
Subtle demolition job on the soon to be Toddler-in-Chief. The late great John Prine rates a mention even though the song was recorded pre-Covid because (as Chuck said when I interviewed him) everyone needs to listen to John Prine.
Matthew Caws– "When History Comes"
Nada Surf front man delivers one of the best protest songs in decades. Totally in your face without being cruel and ends with a rallying call to vote because "it's important".
3. Two Dylan covers
Dave Alvin – "Highway 61"
The former Blaster slows it down and drawls his way through as only a Texan would.
Samantha Martin + Delta Sugar – "Meet Me in The Morning"
Canadians give his Bobness the soul treatment? Yes and it works.
4. Two more covers
NO ZU - "Talking To A Stranger"
If you can recall when the Hunters were boundary pushers before dissolving into bland pub rock sludge, this one's for you. Great vid.
Nancy Wilson – "The Rising"
She of Heart releases her first new music in aeons and it's a perfect Bruce cover just in time for the November US election entertainment.
5. Two live albums
Glitoris - "The Slut Power Sessions - Live at The Basement"
I was there! Canberra's finest put on a stellar show as always.
Johnny Cash – "A Night to Remember"
Leave your credit card at home, because it's Cash only in 1972. Luther might have left us by then, but he was replaced (for this show at least) by Carl (no relation). Some fantastic interpretations of Kristofferson and Hardin as well as one of his mother in law's most famous. One of the best live albums for a long time.
6. Two gigs
Lachie Doley Group at the Paddo RSL
Friday the 13th of March and it was my last gig before lockdown. Lots of good bands on the bill with Chase the Sun getting better every time I see them.
Sunnyboys at the Opera House
First gig post-lockdown. The voice, the songs and the playing continue to amaze me.
7. Two studio albums
Chuck Prophet – "The Land That Time Forgot"
I have nine Chuck Prophet albums. They're all great, but this is the best one yet with superb song-writing drawing on musical and historical reference points. Three presidents and Johnny Thunders are given big mentions.
Emma Donovan and the Putbacks – "Crossover"
Six years since the debut album, Emma and the boys are back with an even better album. And such great songs written by Emma. Gigs please.
8. Two (sort of) television things
Monday Evening Gunk
Thanks to the Barperson and Rossy for putting that on. Seriously enjoyed being part of it and we need it back for 2021.
Ken Burns Country Music series
Wow. If you've only seen the SBS version, you seriously missed out because SBS butchered it. Get the DVDs because it is totally immersive. Well, it's Ken Burns. What else would you expect? "People think I'm a dumb blonde", say Dolly. "Well, I ain't dumb and I ain't blonde." And the Emmylous Harris episode (sigh!) Mother Maybelle Carter had a day job when she played on THAT album? WTF? How was that even allowed? FFS.
9. Two debuts
Moonlight 5 - Lockdown Blues
While some were fool enough to think that Covid could bring us a more caring society (excuse me while I throw up), out comes this gem growling it's way through what was for many people a prick of a year. Zeitgeist on steroids! Looking forward to album.
Howlin' Threads EP
These guys from the Gong and the Can delivered one of the rockingest releases of the year. I couldn't get enough on "Body Moving". Fuck that rocks.
10. Two to look forward to in 2021

New album from Even
(Cue The Who) I think '21 is one is gonna be a good year. Of course it will be if there's a new Even album on the way. All covers, I believe.
And finally, a new movie about one of THE major talents ever is on the way
True. A doco but there's an embargo so I can't tell you any more just yet. Listen to show in the new year because I'm trying to get an interview.
*Chris Virtue presents "Virtual Unreality", a dodgy and musically eclectic radio show on 2RRR 88.5 FM on Friday afternoons from 14:00 (Sydney time)
Tags: top ten, chris virtue, jimi hendrix, even, 2020, moonlight 5 , lachey doley, lucie tiger