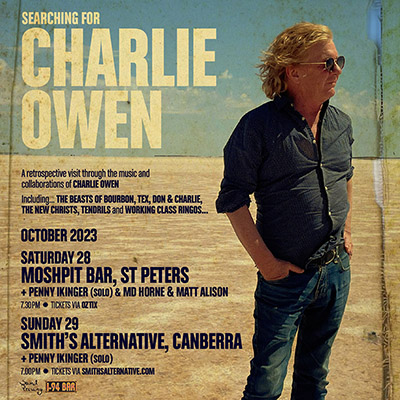 Legendary Australian guitarist Charlie Owen is playing select solo shows in Canberra and New South Wales in October that will reflect on his career of amazing collaborations.
His band history includes Beasts of Bourbon, the New Christs, Tex ,Don & Charlie, Tendrils and Working Class Ringos, and he's collaborated with Paul Kelly, Chrissie Amphlett and Louis Tillett.
His show "Searching for Charlie Owen" involves him playing and talking his way through his own back pages and shows why he's regarded as one of our greatest guitarists.
Charlie will be joined on the bill at Smiths Alternative in Canberra on October 28 by special guest Penny Ikinger, the former Wet Taxis member and a solo artist in her own right. Tickets are here.
And the show at MoshPit Bar in St Peters, Sydney, on Saturday, October 29 will also involve a support bracket from Penny Ikinger, again in solo mode. The line-up will be opened by MD Horne and Matt Allison.

Tickets numbers for Sydney are capped and are available here.
Details

By

The Barman

The Barman

Hits: 3213